How Are Thermal Imaging Cameras Used in Oakland Homes with Water Damage?
8/22/2021 (Permalink)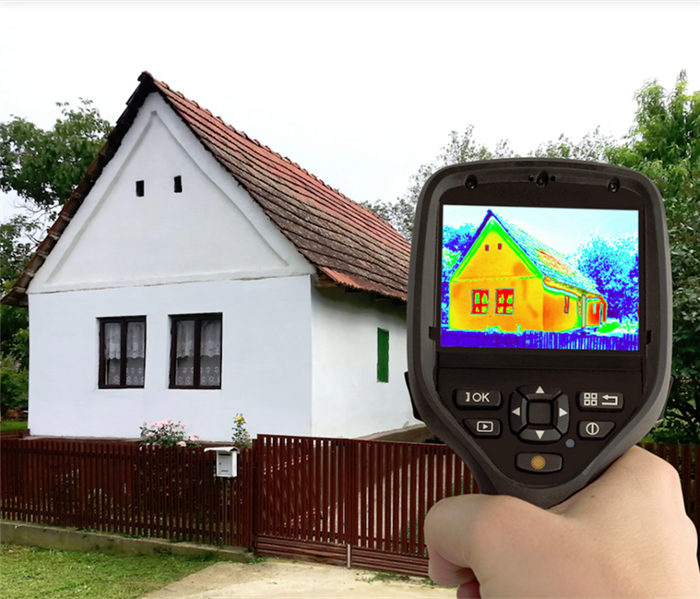 Thermal cameras can detect excess water remaining in walls and other parts of the home. Team SERVPRO has the trained personnel and equipment to help.
Infrared Cameras Are Just One of the Tools SERVPRO Uses in Water Mitigation in Oakland
Also known as infrared cameras, thermal imaging cameras discover and monitor the moisture in building materials. They are a valuable evaluation tool at the beginning of a project. They help our team discover how the water traveled through the building. At the finish of a project, they help determine how successfully drying went.
Benefits of a Thermal Imaging Camera
Thermal imaging cameras show infrared images, not moisture images, in Oakland homes that need water mitigation. While they help track moisture, it is not because they detect liquid. They detect the temperature differences on surface material. Wet surface areas show up as a different color than dry surfaces. This ability makes it an invaluable tool for finding hidden moisture. It doesn't see behind or inside materials, but what it does detect on the surface often indicates what is underneath. Benefits of using the infrared camera include:
Helps with Inspecting Difficult Areas – Places like high ceilings can be hard to reach with a moisture meter. Infrared cameras can get aimed at the location from the floor.
No Building Destruction – Thermal imaging cameras cause no damage to the structure.
Saves Time – Moisture inspection can be time-consuming if you have to go over a large building using moisture meters. Using a thermal camera to check large areas is much faster.
Thermal cameras combined with moisture meters are a powerful tool for providing a broad picture of where moisture is located. They allow SERVPRO to provide professional water damage services that remove all moisture and restore your home. Contact SERVPRO of West Oakland at (510) 500-9300 for quality water remediation.